Your students love riding their bikes to campus. Great! This probably means that you encourage alternative transportation and make cyclists feel welcome on your grounds. Maybe your campus covers a big geographical area and bikes make sense for getting from class to class in ten minutes or less. Or maybe you have a large percentage of your student body living off-campus.
Whatever the reason for bikes on your campus, a large influx of bikes requires management. Some of these cyclists will leave their bikes locked where they shouldn't be. Both members and non-members of your campus community will likely do some damage to bikes left unattended while in class or studying - theft is an inevitability where there's a lot of foot traffic and where many bikes are locked poorly.
If it's your job to manage the bikes on campus, take a deep breath. Tons of bike-specific resources exist so that you don't have to try to squeeze bike management somewhere it doesn't belong in your overarching transportation system and plan. But aside from building a new system for bike management, we have a couple of tips that will cut down on the work necessary for managing the huge influx of bikes you see on campus every day, week, and semester.
1) Make sure you have sufficient bike parking on campus. Easier said than done, right? Bike racks aren't cheap, and they take heavy-duty installation to make sure they are secure. But without a bike rack at every entrance to every building, campus members are going to lock bikes where they shouldn't be: to trees, handrails, and even to bollards. I had a classmate in college who left her bike 'locked' to a bollard and while she didn't realize someone could just slide the bike and lock up over the top of the bollard, the person who stole her bike did.
2) Take police reports of bike theft. You might be amazed to hear students report their bikes stolen to their campus police only to hear that 'nothing can be done.' While lack of resources may limit your ability to help, at least give your campus cyclists the courtesy of caring for their safety and for that of their property. Taking these reports might also allow you to understand trends in bike theft on campus: where they are common, what kinds of bikes are stolen, and what kinds of locks people are using.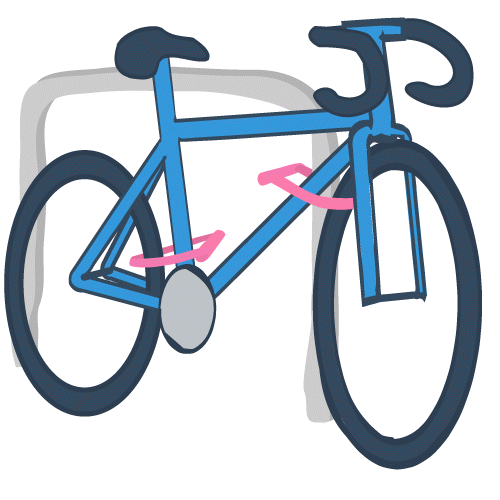 3) Inform campus members how to lock their bikes. As in the case of the bollard above, some locking techniques might be commonsense yeses or nos. But believe it or not, most people do not realize that cable locks do.not.work. Someone can cut a cable lock with garden shears that fit in a backpack or other small bag. No noise, no power tools needed. Encourage campus members to invest in a U-lock. They last forever so they're a worthy investment - I bought a U-lock in college seven years ago and it still locks my bike up every day.
4) Get rid of the paper system. Notecards don't work. Tagging bikes with paper tags doesn't work. Tags fall off and notecards get lost. You can't share information on notecards with others unless you have two copies. Ripping the notecard in half doesn't work - trust me, I tried with a dollar bill once as a kid and learned that sad lesson. This should be no different for efficient bike management. And on that note, consider moving away from your parking system, if that's how you handle bikes. Bikes and cars are not the same. You can't steal a car with garden shears. Or maybe you can, I don't know.
5) Implement a bicycle-specific registration system. And make it free to students, otherwise your registrations numbers will be low. After paying for a bike, a student will be unlikely to also want to pay to register it. Pick a registration system that helps you catalogue abandoned bikes, contact bike owners, and work together with all of the departments on campus who have a hand in bike management. Consider a national registry like Bike Index. Not only will bikes be in your system, but community members, police and cyclists at large across the country can use Bike Index to look out for stolen bikes, even the ones that are taken off campus by a thief. Your students will love you for providing this service.
Bike Index has provided tips and registration platforms to major universities across the country. Join us today.
---
This is a companion discussion topic for the original entry at
https://bikeindex.org/news/5-ways-to-manage-bikes-on-your-campus?locale=nl