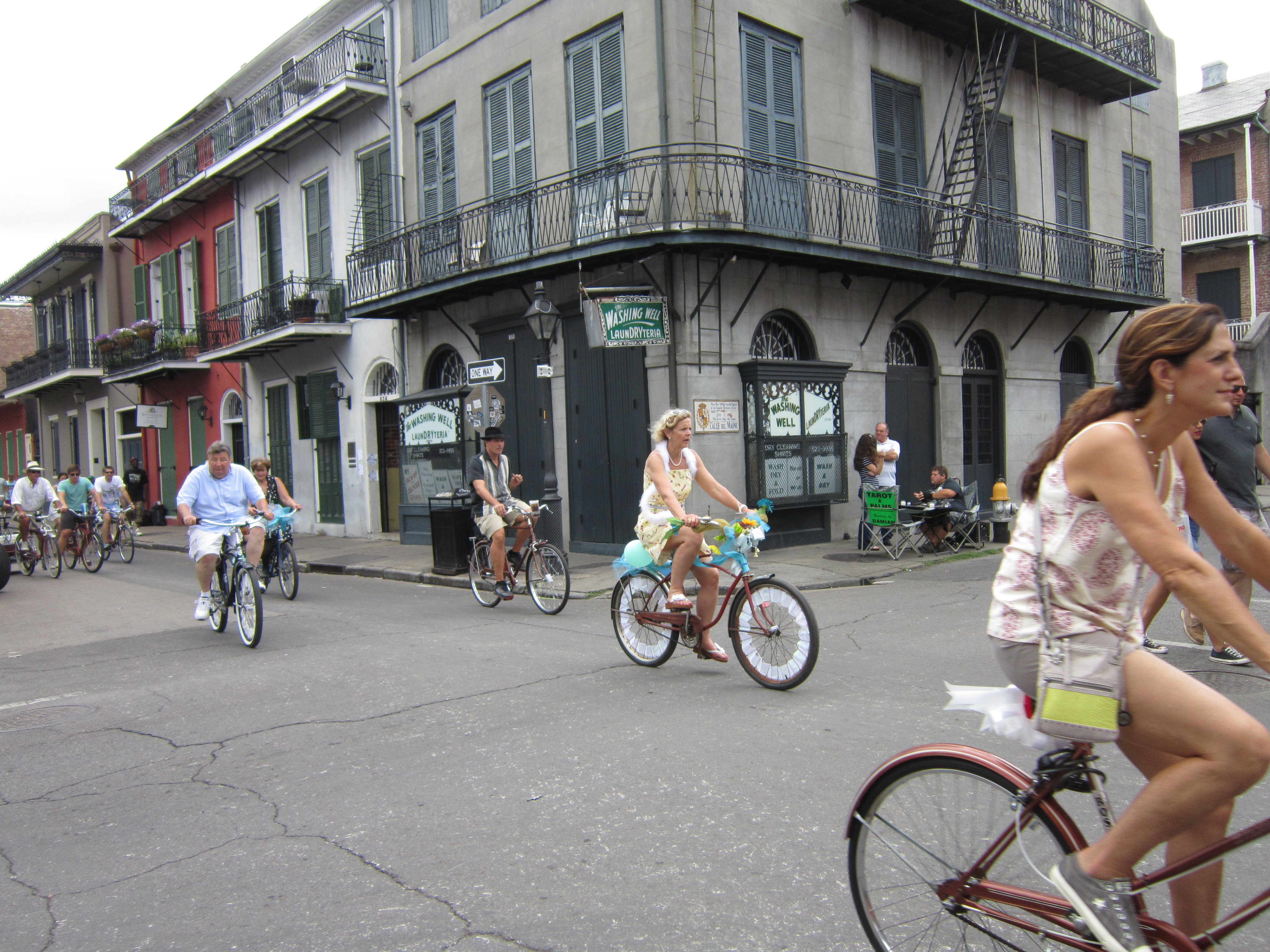 Photo courtesy of Wikimedia Commons
New Orleans is no stranger to Bike Index. Since 2015 the advocacy group Stolen Bikes NOLA has been registering bikes in Bike Index and has utilized Bike Index in some of their 1,000+ stolen bicycle recoveries. But now, the New Orleans Department of Permits and Safety has brought Bike Index on as a way for the city to access and add to a national bicycle registration database.
With an import of New Orleans' registrations from the city's former registration system, along with Stolen Bikes NOLA's 1,800+ existing bicycle registrations in Bike Index, New Orleans is looking to start their partnership with Bike Index on a strong foot.
Cyclists and bike advocates in New Orleans rejoiced when they heard that the city was ditching its mandatory bicycle registration policy this fall. But at the same time, word on the street was that the city was initially planning on developing a new registration system in-house.
"When bikes are stolen, thieves today can easily sell them outside the local jurisdiction where the theft occurred," said Larry Lagarde, owner of RideTHISBike, a bike shop in the French Quarter. "For this reason, any public jurisdiction that takes on bicycle registration without partnering with a well-known, easy to use, nationwide (or even international) online registry is setting themselves up for failure."
Cycling advocates in town were worried a city-specific registry would be less effective than an existing national database, especially since a number of local cyclists, advocacy groups, and bike shops already used Bike Index's national database. The existing in-house registration system was confusing, came with a charge of a couple of dollars, and required a stop into the NOPD.
Lagarde, also the VP of Stolen Bikes NOLA, has seen how bike theft and mandatory registration affects his shop patrons through "the heavy strain bike theft places on those with low incomes." Many locals who live in the French Quarter "ride bicycles as their daily transportation out of financial necessity. When someone's bike is stolen, uncertain transportation alternatives can result in losing a job and even becoming homeless," said Lagarde.
With a foot in the door of a number of cycling spheres in New Orleans, Lagarde was able to get in touch with the city's Department of Safety and Permits, and recommend Bike Index as a system that could work for New Orleans' new registry.
Bike Index will hopefully be a great improvement to the old New Orleans registration process - "It's the best I know," said Lagarde of Bike Index's platform.
According to Lagarde, other important elements of a registry include an "Online database with minimal restrictions to accessibility. The registrants should be able to update their bike info as it changes, including adding/changing photos at anytime. Scan-able decals should be available so registrants can affix them to their bikes, making it possible to determine if a registrant has listed the bike as stolen." These are all things that Bike Index offers.
A remaining New Orleans city ordinance does require registered bicycles to have a sticker with a serialized number. The Department of Safety and Permits will recruit bike shops in New Orleans to register bikes and hand out stickers to their customers and patrons.
"If scanning the sticker via any smartphone immediately queries a widely used, nation-wide database and provides a realtime answer as to whether the bike has been flagged as stolen, this makes sense," said Lagarde. The city has serialized stickers in place which will allow administrators of the city's new Bike Index registry to look up bikes.
Making registration and recording of serial number easier through Bike Index could result in significantly higher registration numbers and theft returns. As someone who works with theft recovery regularly through his bike shop and Stolen Bikes NOLA, Lagarde agrees.
"I have learned that registering a bicycle's serial number and other identifying details is absolutely vital to bicycle recovery. If a bike's serial number is not registered, the likelihood of law enforcement devoting resources to assisting with recovery is minimal."
We are excited to work with New Orleans to help them register and recover more bicycles, with both cost-effective and time-effective tools for database management.
---
This is a companion discussion topic for the original entry at
https://bikeindex.org/news/bike-indexs-newest-municipal-partner-new-orleans?locale=