Oh Canada! The city of Edmonton, in Alberta, is announcing today that they will be using Bike Index as the city's official bicycle registration system.
Edmonton will use Bike Index via the Edmonton Police Service and 14 local bike shops, bringing together a community of cyclists in the city and surrounding areas to diminish bike theft. A successful collaboration among EPS, community members, and bike shops has already resulted in a high stolen bike recovery rate in Edmonton, and an official partnership with Bike Index will only increase this success.
"The support we have received within EPS and Edmonton's cycling community shows how important this initiative is," said Constable Kenny McKinnon. "We are proud to lead our city into a future that will hopefully see a noticeable decrease in bike theft and we want to thank Bike Index for partnering with us to make it happen."
EPS will help the bike shops in town implement registration protocols. Shop employees can register customers' bikes at the point of sale, either with one of Bike Index's automatic registration integrations (Lightspeed or Ascend) or through our easy bike entry tools. Citizens will be able to pick up a free QR sticker and registration pamphlet at any EPS Division. By working with local cycling organizations and businesses, EPS will be able to reach more cyclists and help them get their bikes registered.
Constables from EPS will help educate community members and organizations on how to find their serial numbers and register their bikes with the EPS.
Bike Index has already recovered over $8 million in stolen bicycles, and is excited to help Edmonton bring this service to their citizens, local cycling businesses, and community members.
"The last few years we've had a ton of grassroots support in Edmonton," said Bike Index Executive Director, Craig Dalton. "This has led to numerous stolen bike recoveries. And by adding official support from EPD and local bike shops, we have the opportunity to radically alter the stolen bike problem in Edmonton."
Integral to this partnership has been a handful of Bike Index ambassadors in the area, many of whom are part of the Stolen Bikes Edmonton Facebook group. Stolen Bikes Edmonton has used their Facebook group, in conjunction with the police service and Bike Index, to recover over 1,000 bikes.

"About a year ago we met a few Edmonton Police members that showed some interest in bike recovery and the Stolen Bikes Edmonton Facebook group," said Brent Thorvaldson, who runs Stolen Bikes Edmonton. "These officers were willing to help us with recoveries when we had a positive match to a bike posted for sale online and a bike registered as stolen on Bike Index. We would share the suspect ad and the Bike Index registry directly with EPS as this included all the info they needed to make the recovery. This process resulted in consistent recoveries."
Using Bike Index, Edmonton Police officers will be able to message registrants from directly in the field. When an officer finds a bike, they can use their smartphone devices to scan bikes with Edmonton-branded QR stickers. Law enforcement can even message Bike Index users before they report their bike as stolen (for instance if it's stolen while they are at work and they don't yet know it's missing). This allows EPS to return bikes to their owners as quickly as possible.
"Over the past year the officers we have been working with felt that Bike Index would be a great tool for officers to use alongside CPIC [Canadian Police Information Centre] as they can search by make, model, and serial numbers, which were [previously] not available to them when they were not at their desk or in their cruiser," said Thorvaldson.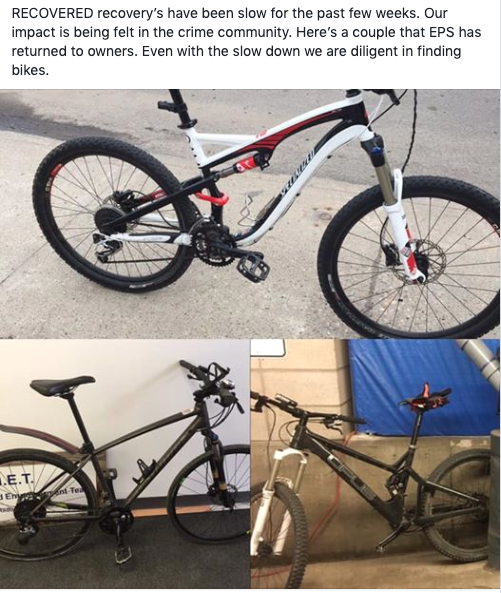 EPS's hope is that they can use Bike Index to integrate with local bike shops and diminish the amount of work that shops and cyclists have to do to register bikes.
"It took a lot of hard work from a few passionate officers to put together a proposal to introduce Bike Index not only as a recovery tool but as a bike registry that has proven to stand out from the others with ease of use," said Thorvaldson. "The thought is if bike owners are registering their bikes and locking them up, then they will also report them as stolen to law enforcement - which means more recoveries and bikes being returned to their owners."
Shops participating in the launch:
Mec (2 locations)
Hardcore
United
Revolution Cycle
Mud Sweat and Gears
Element Cycling
Red Bike
Pedal Head
Giant
Sports Shack
Sports Check
Cycle Logic
Cranky's
Renu Cycle
---
This is a companion discussion topic for the original entry at
https://bikeindex.org/news/welcome-to-our-newest-bike-index-partner-edmonton-alberta?locale=