Jump to:
Have questions about how Bike Index will operate in your bike shop? Concerns? Check out some of the most frequently asked questions about our point-of-sale integrations. Our integrations with Lightspeed and Ascend retail are built with shops in mind, and we hope you can use them to achieve two things:
Register bikes automatically without any extra work or steps for your employees
Help your customers in case of theft
Even if you are great at saving serials and keeping customer info on file, Bike Index can put crucial ownership info in the hands of your customer at the moment of sale, before they even leave your shop. Then, if their bike goes missing, they don't need to get you involved with their search and report, and they can leverage our free tools and community immediately. You've been looking out for them since day one by giving them access to Bike Index.
So, rest assured, and register away!
1) Is this an official partnership?
Yes. Both the Lightspeed and Ascend retail integrations by Bike Index are built with and endorsed by, the respective parties.
2) How many emails will you send to my customer?
None, if you so choose. Both the Lightspeed and Ascend retail integrations work like this:
At the time of the sale, a registration is created on Bike Index for the bike - not for the customer. The bike is then on Bike Index and Bike Index users, including local law enforcement and Bike Index ambassadors, can see the bike. If a user recovers that bike, they can see that you registered the bike at your shop. They can then get in touch with you about returning the bike to your customer.
You can choose to have Bike Index email customers when their bikes are registered, or not.
If you do have Bike Index email the customer at the point of sale, the customer then has the option to create an account on Bike Index. Hopefully, they do - it's free! And they can add their other bikes to their account at any time, even after a bike is stolen. When they create that account, the bikes you've just registered on their behalf will be in there waiting for them - because they have been tied to that person's email address. They can then update and modify the bikes as necessary, or even transfer the bike ownership to a new owner down the line.
If you do not have Bike Index email the customer, the bike is still registered. If you tell the customer about their bike registration, they will be able to sign in to Bike Index and access it.
At the end of the day, it all depends on what you - and your customers - will find most effective.
3) My customers don't want to give their information out to a third party
Understood - we've all been there. We don't want our information shared or inboxes spammed with random email or solicitations. But rest assured that if you choose to register a bike for a customer and send them an email, the first email they receive from us is the only email they will ever receive from us.
The only exception is if they want to report their bike stolen or missing. Then, we can guarantee that they'll want to be in Bike Index. While they can get their serial number from you, acting on a theft quickly is critical. Why delay this process and add this additional burden to yourself when they can already own that serial on Bike Index without you having to do any extra work for them?
Bike Index also allows your customer to leverage our platform to get people looking for their stolen bike via our social media tools, large number of partnerships, and promoted alerts. They can also add a police report number and alert pawnshops in the area that their bike is on the lam. If their bike is stolen, Bike Index is the most effective way of getting it back - help them access it as quickly as possible.
Bike Index only pulls their email address and the bike details - nothing else. We will never sell, give away, or otherwise distribute your customers' information, per our Privacy Policy.
4) I don't want registration to impede my sales process
The good news is that these integrations are built specifically not to do this. The integrations run automatically in the background of your Lightspeed or Ascend retail systems and register bikes as you sell them - no manual effort required on your part.
Of course, you are welcome to elaborate on the registration process to your customers, and we encourage you to do so. Feel free to point them to lily@bikeindex.org if they have any questions about Bike Index and the registration process. We can also send you a Bike Index sticker for your shop window or you can print other Bike Index resources to distribute to your customers. We would love it if your shop would tell your customers that you are looking our for their bikes long after they've rolled out of your doors
If you choose to send a Bike Index email to your customers, this will elaborate on Bike Index and the benefits they receive with their free registration. This is what it will look like: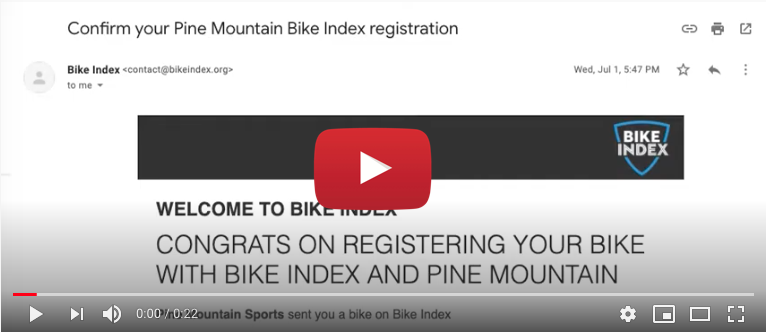 5) I already have an email protocol that I don't want to - or can't - change
Already have a sophisticated email campaign for your customers? Bike index can easily integrate into your existing flow.
As you saw above in question 4, we assume the responsibility of informing your customers about Bike Index - there is nothing more that you need to do. We can also add shop-specific language additional to what is already populated on these emails as well if you'd like.
If you don't want to use Bike Index emails, you can add Bike Index elements to your existing communications. Whether that's through free resources, design elements, or a free web registration form (email lily@bikeindex.org to get yours), we have the tools to integrate with your existing strategy.
6) Does the integration collect any other customer info?
The only additional information you have the option to collect is the customer's phone number. You can configure this option on your integration panel, which you can use to edit bikes you register on Bike Index until the owner creates their account and claims the bike.
This is not mandatory to collect. We have this option in case you are registering bikes in conjunction with your local law enforcement. Trusted law enforcement officers often recover bikes before the owner knows they are stolen and need to be able to get in touch with the owner as quickly as possible. Phone number is the easiest way to do this, and law enforcement are the only people who can see this information unless the bike owner creates an account, marks their bike as stolen, and makes this information public.
That being said, if you don't want to register this information, you don't have to! It's up to you.
7) I am one shop in a chain - how does this play into company protocol?
We understand that sophisticated chains and large standalone shops are businesses with substantial resources - legal, financial, etc. - and have a different set of protocols and obligations to customers. We've worked closely with - and over the years, in - all kinds of shops, and have found success with Bike Index in a number of different ways. Fortunately, combatting bike theft is something even the largest of chains can agree on.
Each shop in a chain will have to independently set up their ownLightspeed or Ascend retail integration. Each location can create their own free account on Bike Index and set up the integration using the Lightspeed or Ascend account at that location. We can help you create these accounts and get set up. If each shop needs a slightly different strategy, we can accommodate.
If you are part of a bike shop chain and are as passionate as we are about bike recovery, pass this on to your shop manager and to your other affiliated shops! We are ready to work with anyone and everyone and can help you pitch our tools for bike shops to those you work with.
---
This is a companion discussion topic for the original entry at
https://bikeindex.org/news/security-faq-pos-integrations?locale=en